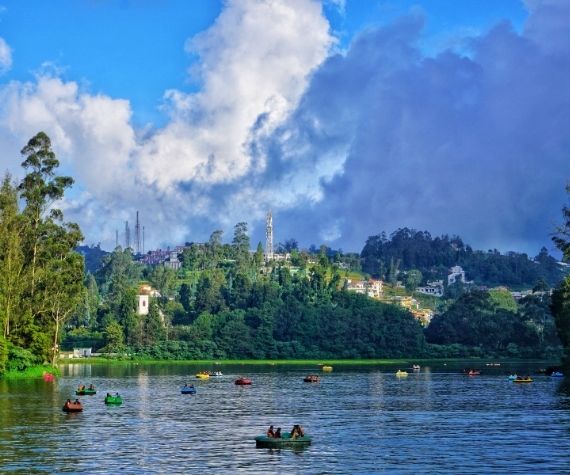 Ooty - Queen of the Hills
Ooty, also known as Udagamandalam, is a hill station nestled amidst the Nilgiri hills in Tamil Nadu. It serves as a top-rated tourist destination. Once regarded as the summer headquarters of the East India Company, the Queen of the hills is a picturesque getaway. Dotted with tea gardens, serene waterfalls, winding country lanes, and charming colonial architecture, Ooty is the perfect holiday hotspot for couples and honeymooners alike. Ooty allures its visitors with the panoramic views of the Nilgiri Mountains, its picturesque gardens and imposing waterfalls is a special attraction. Shopping in Ooty is a great idea as it is a haven for hand-made items like woollen shawls, sweaters, and souvenirs. The local markets are great for stocking up dried spices, Eucalyptus oil and different varieties of tea.
Here are some of the fascinating places to visit when on an Ooty sightseeing tour
Ooty Boat House & Lake – Is one of the most refreshing and beautiful places to visit in Ooty. The stunning lake is spread over an area of 65 acres. The Ooty Lake is surrounded by Eucalyptus trees and greenery all around and is a great place to experience the beauty of this hill station. The lake is filled with beautiful water birds with the exotic Nilgiri mountain birds being a special attraction.
Ooty Botanical Garden – Is a splendid park spread over 22 hectares The botanical garden Ooty has well planned themed sections offering a truly spectacular visual delight. The garden can be best admired for its stunning variety of flowers, ferns, and orchids.
Ooty Rose Garden – Is a mesmerizing garden in the heart of the town of Ooty. It is also known as the Jayalalithaa Rose Garden. Nature lovers are drawn to the Rose Garden in the droves. The view of the lush green garden with areas dedicated to captivating rose varieties are a sight to behold.
Ooty Tea Factory & Museum – The Doddabetta Tea Factory & Museum is a sprawling facility spread over one acre. At the Tea Museum, you will find three sections depicting the history of Tea - Origins of World tea, Tea history in India and the development of Tea in the Nilgiris.
Ooty Doddabetta Peak – The Dodda Betta Mountain is the highest mountain peak in the Nilgiris mountain range. The slopes of the Doddabetta are covered in thick shola trees. Shola's are a unique type of tropical forests that grow on higher mountain regions. These broad leaved forests interspersed with grasslands are a retreat to the eyes. It satiates the desire of every avid trekker, yearning for some adrenaline filled adventure.
The distance from Bangalore to Ooty is around 270 km away, so if you are planning a holiday with family and friends then Deepam Taxi can bring all your travel plans to fruition. Deepam's affordable cabs in Bangalore have a travel solution for all your planned and immediate travel needs. Our vehicles range from hatchbacks, sedans, SUV's and Tempo travellers. Deepam offers to give its customer a seamless hassle free cab service at very competitive rates.
The COVID times has compelled everyone to take extra precautions to fight this dreaded pandemic. Our taxis are properly sanitized to keep customers safe while they travel with us. Our taxi drivers are trained to follow quarantine measures like maintaining adequate social distancing, personal sanitization with the mandatory use of facemasks, disinfectants and hand sanitizers. We will ensure to offer you the most affordable outstation cabs in Bangalore.
Your easy to book cabs in Bangalore is a phone call away. Do call us on 080 4684-4684 to avail our Bangalore taxi rates with special discounts, offers and coupons.